Our ophthalmologists preform Cataract exams and offer Refractive Cataract Surgery procedures for people who have astigmatism using the latest instruments like ORA and EyeSys Vision Vista.
For most people, the lens of one or both eyes eventually gets cloudy, causing blurry vision. This condition is called a cataract. More than half of Americans develop cataracts or have had surgery to correct a cataract by the age of 80, according to the National Eye Institute. You might develop a cataract in one or both eyes, but it does not spread from one to the other.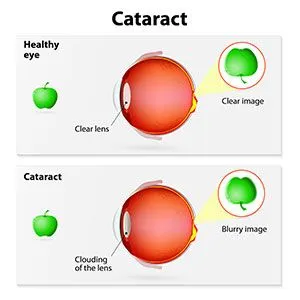 Cataracts progress over time. If your vision is adequate, glasses or contact lenses might suffice to address your early-stage cataract and slightly impaired vision. However, if blurred vision is making you a dangerous driver, affecting your independence or compromising your ability to do the things you love, it might be time for cataract surgery.
The Procedure
The outpatient procedure is generally safe and takes less than an hour. Your ophthalmologist will dilate your pupil with eye drops and administer local anesthetic eye drops. You may also be prescribed a sedative to counter anxiety.
Once your eye surgeon has made a small, self-sealing incision in the eye, a step called phaco-emulsification is then preformed. During this step of the procedure, the ophthalmologist inserts a thin probe into the cataractous lens and uses ultrasound waves to break it up, before suctioning out the pieces.
Once the cataract is removed and in its place an intraocular lens (IOL) is implanted. The implants are made of unique materials and the selection of the lens is customized to the patient's needs.
Recovery
A patient can go home on the day of your surgery. However, you'll need to arrange for somebody to drive you home from the site of surgery. You might also need help around the house, as your doctor may restrict bending and lifting for a few days.
Expect mild discomfort, light sensitivity, fluid discharge and itching for a few days after surgery. For a short period of time after surgery, you may need to wear a patch or eye shield while sleeping or take medications that control eye pressure.
Patients will have to schedule follow-up visits to monitor the progress. Once healed, a patient can get a new prescription for eyeglasses, if necessary.
After surgery, some people develop a secondary cataract, also called posterior capsule opacification. We can usually treat a secondary cataract with a quick, painless outpatient laser procedure.
Risks
Cataracts are usually treated safely and successfully. However, risks — while uncommon — do exist. These include swelling, infection, inflammation, retinal detachment, glaucoma and loss of vision. People with serious medical conditions or other eye diseases are at increased risk of complications.
If you suspect you need cataract surgery, call Hillcrest Mayfield Eye Associates today at 440-442-4330 to discuss your options.